'Everything Everywhere,' 'Cabinet of Curiosities,'

'Invaders from Mars' take top Rondo honors


'Masters of Make-up Effects' is Book of the Year;
Sam Irvin top writer; Mick Garris best podcast;
Penny Dreadful, Joe Bob Briggs inducted into Hall of Fame
By David Colton
   ARLINGTON, VA. – Voters rallied around the multiverse, anthologies and classic horror and science fiction as winners of the (Gasp!) 21st Annual Rondo Hatton Classic Horror Awards were announced after a year of genre dominance.
   Among top winners of the fan-based Rondo Awards, a global online ballot honoring the best in classic horror, science fiction and fantasy, were the Oscar-winning EVERYTHING EVERYWHERE ALL AT ONCE (voted Best Film), Guillermo Del Toro's CABINET OF CURIOSITIES (Best Television Presentation), and the stunning restoration of the 1953 classic INVADERS FROM MARS (Best Blu-Ray and Best Restoration), which left every child who saw it frightened for life.
   MASTERS OF MAKE-UP EFFECTS, a look behind the scenes of "practical effects," by Howard Berger of KNB EFX Group, and Marshall Julius, was voted Book of the Year, and THE LEGEND OF KING KONG, a three-part documentary directed by Tom Grove covering all Kong films, was voted Best Documentary.
   In individual categories, Antonia Carlotta, the 34-year-old grand niece of Universal Studios founder Carl Laemmle, who has produced documentaries about her family's monster legacy, was named Monster Kid of the Year (Rondo's highest honor). Sam Irvin, author of the nominated memoir, I WAS A TEENAGE MONSTER HUNTER, was voted Best Writer, Mark Maddox was voted Best Artist, Noufaux was voted Best Fan Artist, and Tim Lucas was tagged as Best Blu-Ray commentator.
   Two Special Recognition Rondos were awarded: To Robert Zier, also known as Bobby Lugosi, a young online influencer who uses his sites on TikTok and YouTube to explain classic horror films to his million-plus followers; and to Simon Fitzjohn, who battled studios for seven years to get the Mia Farrow thriller, THE HAUNTING OF JULIA, released and restored on Blu-Ray.
   Newest entries to Rondo's Monster Kid Hall of Fame are longtime horror historian Buddy Barnett, who helped found Cult Movies, one of the earliest fan magazines; writer Frank J. Dello Stritto; Amanda Reyes, the chronicler of obscure made-for-TV horror films; the late director Dan Curtis; and horror hosts Penny Dreadful and Joe Bob Briggs (Joe's co-host Darcy the Mail Girl will also receive an award as his Last Drive-In folding chair mate).
   More than 5,250 fans and pros voted online this spring, the second largest turnout in the award's 21 years and a bounce back from the pandemic years. The Rondo Awards remain the largest annual survey of the classic horror electorate in history.
   The Rondo Awards, named after Rondo Hatton, an obscure B-movie villain of the 1940s, honor the best in classic horror research, creativity and film preservation. This year's e-mail vote was conducted by the Classic Horror Film Board, a 28-year old online community. The 2023 Rondos are dedicated to Donna Lucas, who died suddenly last year after being one of the Monster Kid community's biggest supporters.
  Below you'll find all the winners, along with runners-up and honorable mentions. Many categories were very competitive, and numerous nominees not listed here nonetheless drew significant votes.
  Here is a photo of Hatton in the 1946 film, HOUSE OF HORRORS, which was an inspiration for the distinctive bust given to winners.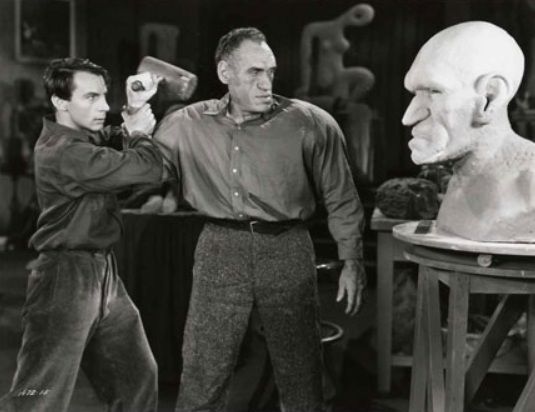 HERE ARE THE WINNERS IN THE
(GASP!) 21st ANNUAL
RONDO HATTON CLASSIC HORROR AWARDS


— This year's awards are dedicated to Donna Lucas —



EVERYTHING EVERYWHERE ALL AT ONCE, directed by
Daniel Kwan and Daniel Scheinert
Runners-up: THE BATMAN; THE MUNSTERS
Honorable mentions: AVATAR: THE WAY OF WATER;
NOPE; THE BLACK PHONE; HALLOWEEN ENDS
BEST TV PRESENTATION
 Guillermo Del Toro's CABINET OF CURIOSITIES (Netflix)
Runners-up: WEDNESDAY; STRANGER THINGS
Honorable mentions: WHAT WE DO IN THE SHADOWS;
THE SANDMAN; WEREWOLF BY NIGHT;
INTERVIEW WITH THE VAMPIRE; OBI-WAN KENOBI
 INVADERS FROM MARS (1953; Ignite)
Runners-up: DR. JEKYLL AND MR HYDE (1931; WB)
CANDYMAN COLLECTOR'S EDITION (1992; Scream Factory)
Honorable mentions: THE DUNWICH HORROR (1970; Arrow);
MARK OF THE VAMPIRE (1935; WB); TOUCH OF EVIL (1958; Kino)
BEST BLU-RAY COLLECTION
UNIVERSAL CLASSIC MONSTERS
Icons of Horror Collection Vol. 2 (4K; Universal)
Runners-up: NIGHT GALLERY: Seasons Two and Three (1969-71; Kino);
THE EUROCRYPT OF CHRISTOPHER LEE: Vol. 1 (Severin);
COUNT YORGA COLLECTION (Arrow)
Honorable mentions: INCREDIBLE STRANGE FILMS
OF RAY DENNIS STECKLER (Severin)
 BEST RESTORATION
INVADERS FROM MARS (1953; Ignite)
Runner-up: DR. JEKYLL AND MR HYDE (1931; WB)
Honorable mentions: NIGHT GALLERY Season Two (Kino);
THE AMUSEMENT PARK (1975; RLJ)
FAVORITE COMMENTARIES
 Tim Lucas
Runners-up: Tom Weaver with David Schecter, Larry Blamire, Joyce Meadows
Honorable mentions: Stephen Bissette; Amanda Reyes; Steve Haberman;
Constantin Nasr; Kat Eillinger; Gary Gerani
BORIS KARLOFF: THE MAN BEHIND THE MONSTER (Voltage),
includes two hours on extra interviews and content.
Directed by Thomas Hamilton, written by Ron MacCloskey
Runners-up: INVADERS FROM MARS (documentary, restoration feature
by Scott MacQueen); NIGHT GALLERY (Syndication Conundrum documentary by Craig Beam)
Honorable mention: ALLIGATOR (1980; Theatrical and TV version; interview with production assistant Bryan Cranston)
MAD GOD, directed by Phil Tippett
Runners-up: PEARL; TROLL
Honorable mentions: SOMETHING IS OUT THERE;
STUDIO 666
BEST SHORT FILM
13 MINUTES OF HORROR,
a compilation of short films from NYX
Runners-up: ULALUME; AMITYVILLE CHRISTMAS VACATION
Honorable mentions: BOOK OF DREAMS; DEATH IN A BOX
BEST DOCUMENTARY
THE LEGEND OF KING KONG, directed by Tom Grove
Runners-up: IN SEARCH OF DARKNESS, Pts. 1-3 (David Weiner);
UP LATE WITH BOB WILKINS (Tom Wyrsch)
Honorable mention: HISTORY OF HEAVY METAL & HORROR
(Mike Schiff); HOLLYWOOD DREAMS & NIGHTMARES: The Robert Englund story
(Smart & Griffiths); QUEER FOR FEAR (Bryan Fuller)
 MASTERS OF MAKE-UP EFFECTS:
A Century of Practical Magic
by Howard Berger & Marshall Julius
Runners-up: ITALIAN GIALLLO IN FILM AND TELEVISION,
by Robert Curti; I WAS A TEENAGE MONSTER HUNTER: How I Met
Vincent Price, Christopher Lee, Peter Cushing & More, by Sam Irvin
Honorable Mentions: GODZILLA: The Ultimate Illustrated Guide, by Skipper Graham;
WITCHES, BITCHES AND BANSHEES: The British Films of AIP, by John Hamilton;
DR. WHO & THE DALEKS: The Official Story of the Films, by John Walsh
BEST CLASSIC HORROR FICTION
(Fiction that uses classic horror icons as jumping off points)
CLASSIC MONSTERS UNLEASHED, edited by James Aquilone
Runners-ups: IT'S ALIVE, by Julian David Stone;
ANNO DRACULA by Kim Newman
Honorable mentions: THE MAN WITH KALEIDOSCOPE EYES,
by Tim Lucas; BLOOD ON SATAN'S CLAW, by Robert Wynn
Simmons; DRACULA BEYOND STOKER (literary journal);
HOUSE OF YGOR by Brad Braddock
BEST MAGAZINE (Classic)
 SCARY MONSTERS
Runners-up: LITTLE SHOPPE OF HORRORS; CLASSIC MONSTERS OF THE MOVIES
Honorable mentions: THE DARK SIDE; WE BELONG DEAD; SCREEM;
 FANGORIA
Runners-up: RUE MORGUE, HORRORHOUND
Honorable mention: DELIRIUM, SCREAM
 'Hex of the Century,' by Dejan Ognjanovic, RUE MORGUE #205
Runners-up: 'Nosferatu: 100 Years of Terror,' by Dacre Stoker, SCREEM #40;
'House of Seven Gables,' by Rod Labbe, SCARY MONSTERS #128;
'Hammer's Ripping Yarns,' by the late Denis Mekle, THE DARK SIDE #230;
'The Chaneys: Horror's Incomparable Dynasty,' by Alex Hopkins,
CLASSIC MONSTERS OF THE MOVIES ANNUAL 2022;
Honorable Mentions: 'A-Haunting They Will Go: Laurel & Hardy, Golden Age Horror Stars?'
by Darrell Buxton, WE BELONG DEAD #31; 'Robert Bloch: More Than Just the Author of Psycho,'
by Jim Nemeth, MIDNIGHT MARQUEE #81; 'Jack Kerouac Does Faro-La, Faro-Li',
by George Humenik, CASTLE OF FRANKENSTEIN #36.
BEST INTERVIEW
Adrienne Barbeau, by Andrew J. Rausch, SHOCK CINEMA #62
Runner-up: Jordan Peele (about Nope), by Phil Nobile Jr, FANGORIA #16;
Caroline Munro by Anthony Taylor, RETROFAN #19; John Carpenter
by Bryan Clark, SCREAM #74; Guillermo Del Toro by Chris Alexander,
DELIRIUM #32; Elizabeth Shepard by Ernie Magnotta, THE DARK SIDE #234

Honorable Mentions: Steve Vertlieb by Mark Mawston, WE BELONG DEAD #31;
Alice  Krige by Carly Maga, RUE MORGUE #207; Sandra Niemi by Don Smeraldi
SCARY MONSTERS #128
 Scene Queen, by Barbara Crampton (FANGORIA)
Runners-up: Rondo Remembers by Ron Adams, MONSTER BASH; Kaiju Korner,
by Mike Bogue, SCARY MONSTERS; DEVIL'S IN THE DETAILS by Stacie Ponder,
RUE MORGUE
Honorable mentions: Kim Newman's Dungeon, THE DARK SIDE; The Rochon Report,
by Debbie Rochon, VIDEOSCOPE
BEST COVER
SCARY MONSTERS #128 by Scott Jackson
Runners-up: CLASSIC MONSTERS OF THE MOVIES #28
by Daniel Horne; DELIRIUM #31 by Suspiria Vilchez;
LITTLE SHOPPE OF HORRORS #48 by Mark Maddox
Honorable mentions: FANGORIA #14 by Jason Kauzlarich;
SHUDDER #7 by Sanjulian; MONSTER BASH #46 by Robert Kokai
BEST WEBSITE
 BLOODY DISGUSTING
Runner-up: Collinsport Historical Society; Trailers From Hell
Honorable mentions: Dread Central; The Monster Channel;
Dana Gould's Hanging with Dr. Z; Video Watchblog
BEST PODCAST
MICK GARRIS' POST-MORTEM
Runners-up: Terror at Collinwood;
Colors of the Dark
Honorable mentions: Monster Party;
Faculty of Horror; Frankenstein Mobster;
Frankenstein Minute; Monster Kid Radio
FAVORITE HORROR HOST OF 2022
 SVENGOOLIE
Runners-up: Elvira; Joe Bob Briggs
Honorable mentions: Vincent Van Dahl; Mummy & the Monkey;
Mr. Lobo; Penny Dreadful; Lamia; Capt. Calico Drake
BEST EVENT
 SCARES THAT CARE, conventions have raised $300,000
for breast cancer, childhood diseases
Runners-up: Dario Argento appearance NYC;
Blobfest returns to street outside Colonial Theater in Phoenixville, Pa.;
Honorable mentions:  Original Monster Kids (Sara Karloff, Bela Jr., Ron Chaney)
appear at Midsummer Scream; G-Fest tribute to late Akira Takarada
BEST GRAPHIC NOVEL OR COLLECTION
KOLCHAK THE NIGHT STALKER 50TH ANNIVERSARY
edited by James Aquilone
 Runner-up: BERNIE WRIGHTSON ARTBOOK: A Tribute
Honorable mentions: JOHN CARPENTER'S TALES FOR A HALLOWEEN NIGHT (Vol. 8); COUNT CROWLEY: Amateur Midnight Monster Hunter; HALF-TONE HORRORS;
SHUDDER Magazine
 INDIVIDUAL RONDO AWARDS
SPECIAL RECOGNITION
ROBERT ZIER

   In a world of AI and "screen time", the pleasures of movies from almost 100 years ago seem increasingly lost on the young. But that hasn't stopped Robert Zier, the proprietor of YouTube's "Lugosi Theater," where he talks knowledgeably and directly about horror movies old and older.
"Hi, I'm Bobby," he says in one video. "I play Dracula in the classic Bela Lugosi style on YouTube and my TikTok videos, and at my friend's haunted house. And I know my autism makes me a better Dracula."
   That kind of honesty helps explain why his YouTube page has more than one million views. A Monster Kid influencer has long been needed!   "I never imagined these movies existed," one of his many fans said in her write-in vote. "He makes them come alive!"
For opening our old world to new audiences, Robert Zier receives a Special Recognition Rondo.
SPECIAL RECOGNITION
SIMON FITZJOHN

A barely remembered thriller from 1977, THE HAUNTING OF JULIA with Mia Farrow, became something of a personal cause for film fan Simon Fitzjohn, who spent seven years trying to convince studios and overcome legal obstacles to get the movie, also known as FULL CIRCLE, restored and released on Blu-Ray. His efforts included negotiations with reluctant studio bureaucracy, some of whom were nervous about being sued. He even hired what he called a"fixer" to help clear rights problems.
"The re-release is on," he announced in October. "I didn't think I would ever say those words."
Fitzjohn is a journalism tutor in London who has written three books, including one on the history of the character Norman Bates. Now the film is out from Imprint in a 4K version with numerous special features, and new attention on a film few thought would ever emerge again.
WRITER OF THE YEAR
SAM IRVIN
   Sam Irvin has done just about everything in show business, a director of more than 50 films, including one with Elvira, a biographer, a horror journalist, a consistent online presence and a supporter of the genre in every way.
But his recent book. I WAS A TEENAGE MONSTER HUNTER, has become an instant classic, a memoir ranging from his days helping with the family movie theatre business, to meeting Brian DePalma, and encounters of the close or awkward kind with stars  such as Vincent Price, Christopher Lee and Peter Cushing.
Rondo voters responded with support for the multi-Rondo winner for his writing and his seemingly endless storytelling prowess.
   Runners-up: Rod Labbe, Owl Goingback, Alexandra Heller-Nicholas, George Humenik, Tim Lucas, Gregory Mank, Kat Ellinger, Gary D. Rhodes, Grady Hendrix.
ARTIST OF THE YEAR
MARK MADDOX
   Mark Maddox continues his historic run as Best Artist, captivating voters with his vibrant takes on some of horror's most unusual scenes. One example: The crawling eye from the movie of the same name on the cover of LITTLE SHOPPE OF HORRORS. You cannot look away.
   Mark's work now includes Blu-Ray and books in addition to black-and-white portraits and the numerous magazine covers he produces each year. He has a near-Wiki grasp of movie history, and is a popular personality at various conventions and festivals.
 Runners-up included Mitch O'Connell, Daniel Horne, Dixie Dellacorte, Scott Jackson, Rick Melton, Bob Eggleton, Frederick Cooper, LJ Dopp, Rich Davis.
FAN ARTIST OF THE YEAR
NOUFAUX
 For a third year, Britain's Adele Veness, also known as Noufaux, has topped the growing world of fan artists. Noufaux stands out by experimenting with a variety of media, producing an art nouveau look that is both frightening but somehow comforting. Her subjects range from Bela Lugosi to more modern personalities, but always enveloped in an gilded cage of flowers and swirls.
Runners-up included Josh Ryals, John Febonio, Jerrod Brown, Bob Lizzarraga, Lee Hartnup; Eric Puckett.
   Nearly a century after Carl Laemmle Sr. founded Universal Pictures, his great great niece, Antonia Carlotta, has helped keep his studio's legacy alive. A 34-year-old actress, Antonia has produced and narrated several documentaries about Universal, its monsters, and the impact her great uncle's studio still holds on entertainment today.
   Her Universally Me videos and Universally Mini podcasts have taken on topics ranging from How the Classic Monsters Saved Universal Studios, as well as How Her Family Lost Universal, in addition to profiles of Jack Pierce, Laemmle, and Why It's OK to Call the Monster Frankenstein. Many of her videos are available on the Classic Horror Film Board.
    Antonia has become a young and media savvy ambassador for the classic black-and-white monsters. And given her bloodline, she is a true Monster Kid for the 21st Century. We hope her influence and career continues to flourish.
THE MONSTER KID HALL OF FAME
New inductees
Buddy Barnett
Few horror fans have been as influential as Buddy Barnett, who with West Coast
colleagues in the 1990s transformed his love of monsters and Bela Lugosi into a lifelong search for the origins of horror films and their offshoots.
A one-shot Bela Lugosi magazine soon became the long-running CULT MOVIES publication, a home for some of classic horror's most important writers and historians. In addition, Barnett co-hosted CULT MOVIES TV, produced low-budget monster spoofs such as THE VAMPIRE HUNTERS CLUB (with Forrest J Ackerman among others), oversaw cult film conventions. and a collectible store. A stickler for accuracy, Barnett once said erroneous claims about Lugosi "always make me mad."
Frank J. Dello Stritto

Many writers these days come up with genre "mash-ups," where Tarzan, for example, meets Sherlock Holmes, but no one does it as brilliantly as Frank J. Dello Stritto. In three can't-put-down novels, he has woven together the untold histories of various movie werewolves and wolf men, untangled the wanderings of Universal and Hammer's mummies, and explored with Carl Denham the many lost worlds and giant monsters of the Pacific.
All this in addition to his trailblazing work on the real-life history of Bela Lugosi, shedding light on the unknown corners of classic horror history, and providing entertaining looks at the genre's many totems and themes. Dello Stritto's work always delivers, and he has changed horror scholarship for the better.
Amanda Reyes
   Horror has many tantalizing blank spots — lost films, alternate endings, deleted scenes, and mysteries of casting and auditions. Surprisingly, another part of genre history is missing as well. Many of the made-for-TV horror and science fiction movies from the 1970s and 80s are lost or forgotten.
   Enter television historian Amanda Reyes, who has chosen to accept her mission to reveal the many TV thrillers that showed up in living rooms and then vanished. In books such as "Are You in the House Alone? A TV Movie Compendium, 1964-1999," her lectures, commentaries, and Made for TV Mayhem blog, Reyes has renewed interest in these one-and-done movies, many of which were not considered part of horror history.
   And she brings these "lost" movies back to life with wit, research and engaging writing.  We get the feeling she has only just begun.
DAN CURTIS
  One TV producer and director who did leave a mark was the late Dan Curtis, who revived the horror myths with TV shows such as Dark Shadows, and Jack Palance as Dracula, and Dr. Jekyll and Mr. Hyde, and the classic Night Stalker TV movies.
   Curtis was able to modernize the monsters, mixing love and romance with gothic settings, or showing ghouls and beasts scrambling along rain-swept city streets, or a vicious Zuni doll terrorizing a kitchen. Horror wasn't his only gift, producing numerous mini-series and theatrical movies.
Curtis, who died in 2006, left entertainment better than he found it, and showed how horror films could stay relevant even in changing times.
PENNY DREADFUL

From the earliest days of Vampira and Zacherley, horror hosts have used the movies they aired for laughs, visuals, and time fillers. But few realized the monster lode of possibilities like Penny Dreadful (Danielle Gelehrter), and her creative crew in Massachusetts. No more only joking from the commercial breaks; she and her co-stars, including her late wolfman husband Garou, would insert their faces and shadows into videos and clips.
Her show, Shilling Shockers, was way ahead of its time, and Penny Dreadful's reach has grown far beyond her Massachusetts mandrake roots.
Penny has also brought research and performing skills to her Terror at Collinwood podcast, methodically retracing the saga of Barnabas Collins episode by episode. In a world of sometimes cookie cutter hosts and hostesses, Penny Dreadful remains one of a kind.
JOE BOB BRIGGS
(and Darcy)
  Deeply knowledgeable and whiplash fast, Joe Bob Briggs has had a Texas-sized impact on the world of horror appreciation. Even the grisliest films — and he shows them all on his five-year Shudder series, Joe Bob's Last Drive-In — have redeeming values in his twinkling eyes. Before each showing he uses a sketchboard to tally the kills, including whether a movie has "hatchet fu," "scalding fu," or "choking fu."
It's all in good fun. A journalist and sportswriter, Joe Bob switched to films of mayhem in the 1980s and has been a constant presence, even when he disappeared for awhile, for almost half a century. Recently joined by Diana Prince, also known as the take no guff Darcy the Mail Girl, their efforts are ensuring that the often absurd world of splatter fu will live on!
  Joe Bob, for his long career, will receive the Hall of Fame plaque. Darcy will get a Drive-In Co-Host statuette. Or as we call it, "Rondo fu."
———-
As we always say, if you've gotten this far, you are a true Monster Kid.
Again, remember that winning is fun but the true value is in all the nominees and all their work. And thanks for being a part of the Rondo experience.
Rondo Awards copyright 2023 by David Colton
 — Or write in another choice: